Podcast: Play in new window | Download (Duration: 57:55 — 79.6MB)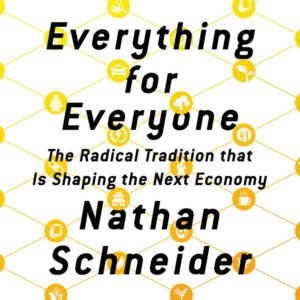 On this episode of Each For All, we talk to Nathan Schneider, author of Everything for Everyone: The Radical Tradition that Is Shaping the Next Economy, about this new book. We go from talking about Nathan's own familial experience in owning a co-op, to the unrecognized role of leadership in co-ops, to youth engagement and how the co-op world is slowly but surely overcoming post-commie-threat-induced amnesia in today's digital world. 
Follow Nathan on twitter @ntnsndr and buy his book at your local bookstore, or get it online + check out more of his writings on his website.
This show aired on February 12th, 2019.