Podcast: Play in new window | Download (Duration: 33:34 — 38.4MB)
Seniors in O'Leary, Prince Edward Island are going to benefit from the efforts of their community to build a new state-of-the-art residence and run it as a co-operative. The 50-room facility, right in the heart of town, will give local seniors affordable housing, provide lots of programming for residents and community members and create much-needed jobs in the process.
The best part is that seniors can stay close to their families, rather than moving away to find needed housing and support that is in line with their budgets. Keeping families together is a large part of what's driving this initiative.
Sally Lockhart, chair of the Community Seniors Co-operative says the plan is for the facility to be net-zero. Seniors co-ops and care homes nearby Tignish, Wellington and Alberton are providing advice and support.
Right now the goal is to raise as much money as possible so less has to be borrowed.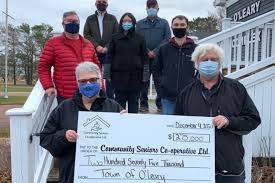 Recently, the Town of O'Leary chipped in $275,000 for the project. "Community-owned and community-operated" is what Islanders strive for says Lockhart.
Have a listen.