Podcast: Play in new window | Download (Duration: 27:22 — 37.6MB)

There are some surprising results in the 2019 Top Co-op Issues survey conducted by the Centre for the Study of Co-operatives at The University of Saskatchewan.
For the first time, a growing number of respondents are voicing concerns about the co-operative sector getting lost in the renewed interest around the social economy. And once more, public awareness of the co-operative model is top-of-mind for those surveyed.
This is the fourth year of the annual Top Co-op Issues survey, a tool that helps the Centre hold up a mirror to the world of co-ops and reflect back what's happening. We discussed the results with Darcy Overland, research manager at The Centre.
For further information about the Top Co-op Issues survey, other studies, blogs and resources available to co-operators check out 
usaskstudies.coop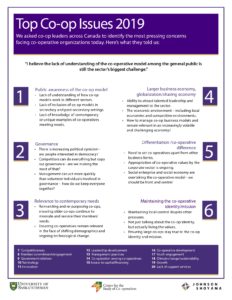 This episode aired on February 19, 2019.