Podcast: Play in new window | Download (Duration: 1:02:17 — 71.3MB)
In Part 1 of this series, we introduced Oasis Senior Supportive Living which promotes aging in place for seniors with activities to combat social isolation and foster good health. Oasis began in one apartment building in Kingston, Ontario 11 years ago. Members there have created a supportive community through social activities, communal meals and group exercising. Even during this pandemic, members are supporting each other and have the backing of their full-time co-ordinator and Board of Directors. Residents we interviewed said their "Oasis family" has made life fuller and more fun! All at a fraction of the cost of long-term care.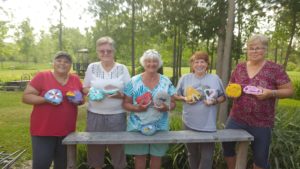 In 2018, researchers from Queen's University received short-term funding to evaluate and expand this senior-driven model to six locations across Ontario. Along with colleagues from McMaster and Western, they've reported early positive results. These new Oasis members have also built connections with each other which helps during COVID-19.
Have a listen.