Podcast: Play in new window | Download (Duration: 59:59 — 101.3MB)
"Where Ideas Play," is the motto of Presentation House Theatre in North Vancouver.  Well now, a new idea has sprung to life; The Creative Hub Co-operative.
In Part 1 of this podcast, Artistic Director Kim Selody explains how the co-op is a way to move forward during the COVID-19 pandemic and opens up opportunities for artists to collaborate and connect. Selody also shares how Presentation House works to build bridges between diverse local communities and will be open for audiences in new ways this fall.
---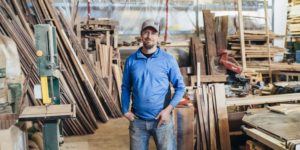 In Part 2, we sit down with Chris Nichols for our regularly scheduled worker co-op sector checkin. Chris shares what is going on federally and locally for worker co-ops during these unprecedented times. He shares many ideas on how co-operatives will play a role in the economic reconstruction following the pandemic. 
Chris Nichols is the Operations Coordinator and Co-Founder of Woodshop workers co-op. He also sits on the boards of The Co-operators and the Canadian Worker Co-op Federation.