Podcast: Play in new window | Download (Duration: 53:15 — 48.8MB)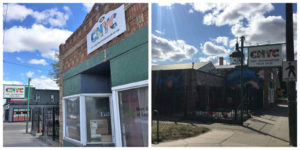 In 1996, members of Saskatoon's Riversdale neighbourhood created a community-based organization to help youth engage in creative economic activities based on the co-operative principles and environmentalism. Since then, the Core Neighbourhood Youth Co-op has evolved into a program that offers high school credits, skill development, leadership and empowerment.
The philosophy of CNYC can best be summed up by this quote: "We define our youth not by their circumstances and what holds them down, but how they rise above it every day."
To learn more about this safe haven for youth from Saskatoon's core neighbourhood, we spoke with one of the founders of the initiative, Owen Fortowsky, one of the very first graduates of the high school credit program, Jessica Sinclair, and the current executive director, Marcel Petit. All share their passion for the co-op and what it means to the local community.