Podcast: Play in new window | Download (Duration: 54:43 — 50.2MB)
This episode features the newest research around the Conversion to Cooperatives project, which explores business succession planning and the potential for transition into co-operatives. It is a 3-year project supported by a SSHRC Partnership Development grant; Co-operatives and Mutuals Canada (CMC) is a key partner in the project, ensuring the findings inform policy advocacy, practice, and knowledge mobilization at the popular level.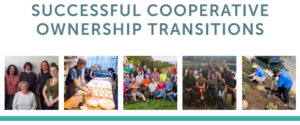 The first part is an interview with Dr. Sean Geobey, director of academic programs, Waterloo Institute for Social Innovation and Resilience, and his research collaborator Meg Ronson (Master's of Economic Development and Innovation, U of Waterloo), authors of The Co-operative Opportunity:  A Strategy for Small Business Succession in Ontario (The Prosperous Province: Strategies for Building Community Wealth, Atkinson Foundation series, 2018).
The second part features a presentation by Dr. Marcelo Vieta, assistant professor, Department of Leadership, Higher and Adult Education, and Ashish Pillai, research fellow, Centre for Learning, Social Economy and Work, Ontario Institute for Studies in Education, University of Toronto, and their Conversions to Co-operatives Project.
The Canadian Association for Studies in Co-operation (CASC) conference was held back in May 2019, in collaboration with the International Co-operative Alliance (ICA) and the Association of Co-operative Educators (ACE). We are very grateful to have had the opportunity of attending the conference this year through support by the Ian MacPherson Foundation and the Ralph K Morris Leadership Fund.
This episode originally aired on October 29, 2019.