Podcast: Play in new window | Download (Duration: 23:42 — 27.1MB)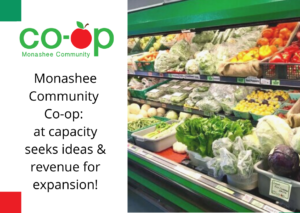 The Monashee Community Co-operative is a grocery store located in Lumby, B.C. It began in 2013 when some local residents collaborated to organize bulk buying of organic foods at a lower price than nearby Vernon. Since then, it's grown to become a vital hub for folks to purchase local, safe, organic, vegan, gluten-free, non-GMO food and an important place for local growers to market their products. As a Community Service Co-op, Monashee returns all profits to the Co-op for future growth and works to educate, support and nourish the local economy.
Now,  Monashee is hoping to expand to a new, larger location. To this end, members are working to buy a building which will appreciate over time and also has potential rental income on the second floor. Board President Chris Bauman explains.
If you can help with this exciting effort, either financially or with fundraising ideas, please go to https://www.monasheecommunitycoop.ca/newbuildingproject/